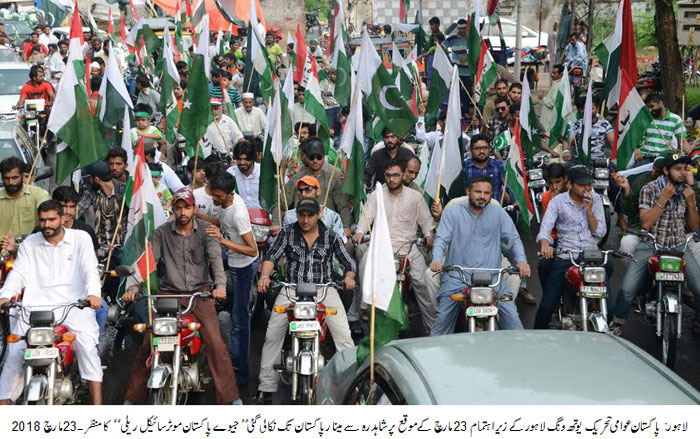 PAT Youth Wing Lahore took out a 'Long Live Pakistan Motorbike rally' to mark the Pakistan Day. The rally, attended by the youth in large number, started from Shahdrah and concluded at the historic Minar-e-Pakistan after passing through different areas. PAT Youth Wing President Mazhar Mahmood Alvi and PAT Lahore chapter President Haji Farrukh led the rally. The bikers were holding national flags and raised passionate slogans on the way.
Mazhar Alvi, while addressing the rally, threw light on historical importance of the 23rd of March. He said that it was day to fix mistakes of the past and redirect our present. It taught us to be prepared to render every kind of sacrifice for the peace, and stability of the motherland. He said that every member of the PAT Youth Wing is ready to offer any sacrifice for the country. He underlined the need of courageous decisions to get rid of biases, sectarianism, and religious and political divides. He said that the current corrupt leaders lack the courage and statesmanship to set the country on the right path. He said that the country needs a leader whose vision and courage guarantees protection of the national security.
Speaking to the participants of the rally, PAT Lahore chapter President Haji Farrukh Khan said that a country which was achieved on the basis of the resolution passed on the 23rd of March has failed to progress as per its potential due to incompetence and corruption of rulers. He said that we have set up institutions and put in place different policies and structures but the masses continue to remain deprived of basic necessities of life, justice and equality of opportunity. He said that obsolete and rotten system has eaten into the vitals of our state and society.
Other speakers also addressed the motorbike rally.