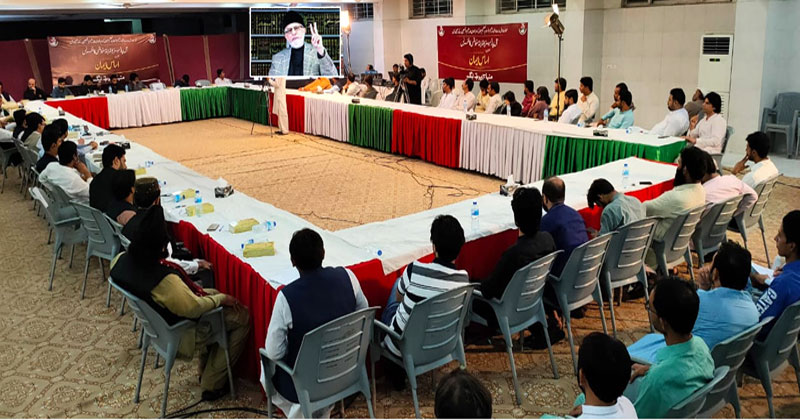 Minhaj-ul-Quran International (MQI) founding leader Shaykh-ul-Islam Dr Muhammad Tahir-ul-Qadri has said educated youths that are blessed with the strength of character, are the future of Pakistan. He said that protecting the youth from extremism and violent attitudes is the responsibility of all parties and religious scholars. He asked the youth to adopt the path of moderation and balance in the matters of life. He said that the enemy is using social media as a weapon of war, stating that our effort should not be to protect ourselves from its pernicious effects but also those around us. He said the concepts that are rooted in falsehood, lies and conservatism, no good would come out of them. He said that the youth should play their role against sectarianism. He said that the love of the Prophet's household and holy companions is the basis of our faith.
Dr Tahir-ul-Qadri expressed these views while addressing an "All Parties Youth and Students Conference", held under the banner of National Youth Alliance in the central secretariat of MQI. Minhaj Youth League hosted the Conference. MYL President Mazhar Mahmood Alvi welcomed the central leaders and delegations of the student organizations on their arrival at the secretariat and termed the Conference as a milestone for the solidarity of Pakistan. The youth and student leaders expressed their pleasure and extreme satisfaction on the scholarly and intellectual address of Shaykh-ul-Islam Dr Muhammad Tahir-ul-Qadri.
Central President of National Youth Alliance Mazhar Mahmood Alvi, MYL Secretary-General Mansoor Qasim Awan, Umar Qureshi, Inam Mustafavi, Mohsin Mushtaq, Mohsin Shahzad Mughal, JI Youth wing's Secretary-General Shahid Naveed Malik, central coordinator of People's Youth Organization Dr Sattar Baloch, provincial president of the youth wing of Pak Sarzameen party Hafiz Ijaz Ahmad, the central leader of Insaf Youth Wing Hafiz Muhammad Akram, central president of Jafaria Youth Syed Izhar Bukhari, president of Muslim Youth Organization Punjab Zulfiqar Ahmad, president of MSM Chaudhry Irfan Yousaf, central president MSF (Q) Sohail Cheema, provincial president of Insaf Students Federation Owais Jamil Gujjar, provincial president of People's Students Federation Musa Khokhar, central spokesperson of Islami Jamiat-e-Talaba Raja Umair, central president of Jamiat Talaba-e-Islam Zaheer-ud-Din Babar, central Nazim of Jamiat Talaba-e-Islam Rai Usman, central president of Imamia Students Organization Syed Arif Hussain, central president of Jafaria Students Organization Syed Zeeshan Naqvi, president of Muttahida Talaba Mahaz Hafiz Mohsin Shahzad, central Secretary General of Anjuman Talaba-e-Islam Akram Rizvi, central president of Jamhoori Watan Party Students Federation Hasnain Zahid, central Nazim of Al-Muhammadia Students Organization Waqar Ahmad, central president of Saraikistan Students Federation Kashif Khan, central president of Jamhoori Wattan Party Youth Kamran Saeed, central President of Ahl-e-Hadith Youth Force Faisal Afzal attended the All Parties Conference along with their delegations.
The youth and student leaders agreed on the need for holding similar conferences in the future as well and expressed the resolve to gather the youth around the ideology of Islam and Pakistan. The leaders of the student bodies also addressed the conference and congratulated Minhaj Youth League on making excellent arrangements for the event.