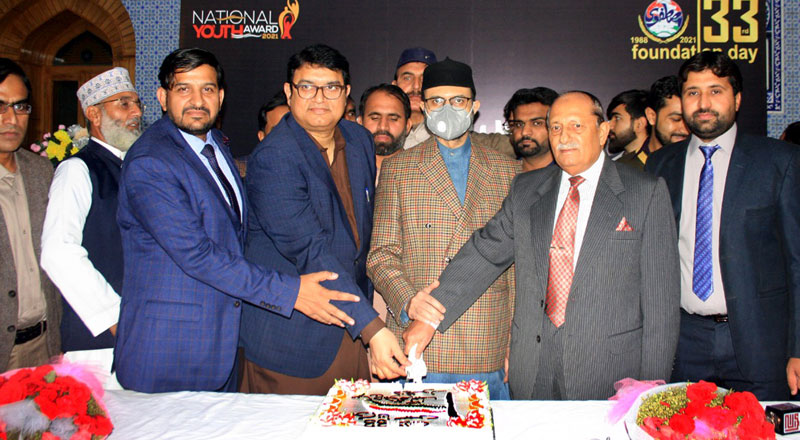 Chairman MQI Supreme Council Dr Hassan Mohi-ud-Din Qadri attended a special ceremony held to celebrate the 33rd foundation day of Minhaj-ul-Quran Youth League and cut the cake. Speaking on the occasion, he said that imparting education and training to the youth is a great national service. He said that MYL's journey of the last 33 years is a journey of knowledge, peace and tolerance. He said that MYL had pledged with Shaykh-ul-Islam Dr Muhammad Tahir-ul-Qadri at the time of its inception that it would not let go of pen and book no matter what the condition, adding that Alhamdulillah, MYL has come good on this commitment with the Quaid.
Dr Hassan Mohi-ud-Din Qadri said whether it is book reading campaign, peace promotion, the mission to spread the love of the Holy Prophet (pbuh), countrywide conferences or the promotion of culture and civilization, the youths associated with MYL have always been at the forefront of such campaigns. He said that MYL is a protector and promoter of the thought of fostering unity with Ummah and spreading knowledge and peace.
Those present on the occasion included vice-president MQI Brig (r ) Iqbal Ahmad Khan, central MYL President Mazhar Mahmood Alvi, naib Nazim-e-Aala Media Affairs Noorullah Siddiqui, PAT Secretary Coordination Arif Chaudhry, central President MSM Irfan Yousaf, Secretary General MSM Mansoor Qasim Awan, Muhammad Zeeshan, MWL's Sidra Karamat, Umme Habiba Ismail, Ayesha Mubashir and others.