Speakers at MYL seminar hopeful about future of Pakistan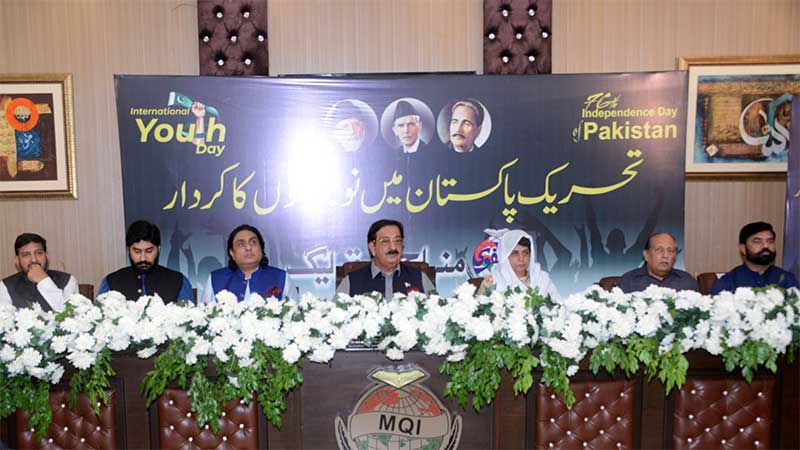 MQI leader Khurram Nawaz Gandapur has said that the nation has high hopes for their youth. He said that they would fill the colour in the rainbow of our aspirations and lead us to a future of progress, peace and prosperity. He said that pessimism is a sin, adding that God willing the day is not far when Pakistan would overcome its problems and emerge as a prosperous country in the world. He said all those who have betrayed this country would meet their end one day.
Khurram Nawaz Gandapur made these remarks while addressing an intellectual gathering held on the topic of "The role of youth in Pakistan's movement" under the banner of Minhaj-ul-Quran Youth League.
Those who spoke at the session included Brig. (r ) Iqbal Ahmad Khan, Barrister Amir Hassan, Humaira Bhutto, Noorullah Siddiqui, Mazhar Alvi, Rana Waheed Shahzad, Imran Younis, Ayesha Mobashar, Ismail Inam, Shahid Rajput, Rana Waqas Qadri, Hannan Gujjar and Kamran Saeed Usmani.
Expressing his views on the occasion, Barrister Amir Hassan said that he is happy that the youths are the focus of the attention of Shaykh-ul-Islam Dr. Muhammad Tahir-ul-Qadri as well as the educational institutions working under the platform of MQI. He said that Rana Waheed Shahzad and his whole team deserve to be congratulated on launching a tree plantation drive in the month of August to mark Independence Day celebrations.
Humaira Bhutto highlighted the need for character building of the youth. She also urged the youths to become leaders in their respective fields. She said that they should ask themselves hard questions in a quest to find direction of their journey, adding that training of an individual is actually training for the whole society.
In his speech, Brig. (r ) Iqbal Ahmad Khan said that those spreading negativity and disappointment would fail. He said that Pakistan's future is rooted in the aspirations of 225 million people who are the soul of this country.
PAT Secretary Information Noorullah Siddiqui said that the youth would have to be made active to rebuild Pakistan. He said that Shaykh-ul-Islam's attention has been focused on imparting quality and purposeful education to the youth. Mazhar Mahmood Alvi threw light on the need for investing in the character building of the youth. MWL leader Ayesha Mobashar said that Minhaj-ul-Quran Youth League is the biggest NGO working for empowerment of the youth at the national level.
MYL President Rana Waheed Shahzad thanked all the guests for sparing time to attend the ceremony. He said that the youths are gripped by the same spirit of national service to rebuild Pakistan as they had during the phase of freedom movement. He said Pakistan would become a great country under the leadership of Shaykh-ul-Islam Dr. Muhammad Tahir-ul-Qadri.