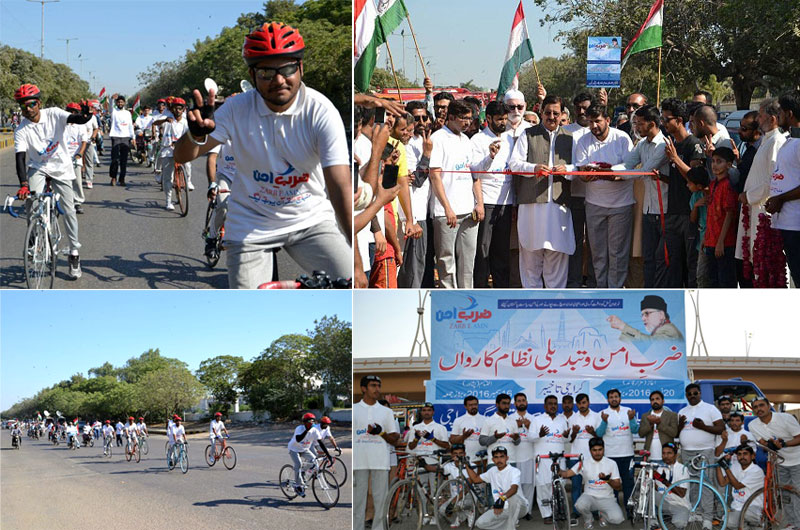 A cycle rally was launched yesterday under the banner of Minhaj Youth League (MYL). The purpose behind organizing the rally is to spread the message of peace and change of system. The people belonging to various walks of gathered at the Mazar-e-Quaid Karachi and saw off the rally with Dua. The chief guest on the occasion was PAT Secretary General Khurram Nawaz Gandapur.
Speaking at the launching ceremony, Khurram Nawaz Gandapur said that the youth will play their role ridding the country of terrorists, extremists, corrupt elements and those indulging in bribery. He said that they are promoting Dr Tahir-ul-Qadri's message of a peaceful Pakistan which is free of corruption. He said that it has happened for the first time in history of the country that the youths belonging to an organization are going on a countrywide tour of the country for a month to express their love of the motherland. He said that the message of the caravan is love, promotion of inter-provincial and intersect harmony.
The PAT General said that it is due to corruption that Pakistan's image as Islamic, welfare and democracy polity has suffered a great deal. He warned that if corrupt politicians were not got rid of, the future of the succeeding generations will become bleak as well. He said that the living nations do not put up with the corrupt and compromised leaders for such a long period of time as is being done here in Pakistan.
The PAT leader said that whether it is Panama leaks or the news leak, the history is being written as to which personalities and institutions played their legal and moral responsibility and which characters gave legal, political and social protection to the corrupt characters. He said that both of such people will become part of the history.
Addressing the launching ceremony, Mazhar Alvi, central leader of Minhaj Youth League, said that the cycle caravan will reach APS Peshawar after a journey of 30 days where tributes will be paid to the martyred children. He said that in addition to the Youth workers, ten professional cyclists are part of the caravan. He said that the caravan will pass through several cities such as Hyderabad, Ghotki, Rohri, Nawab Shah, Rahim Yar Khan, Sadiqabad, Bahawalpur to Multan to Lahore on December 5. He said that MQI President Dr Hussain Mohi-ud-Din Qadri will be the chief guest at the ceremony to be held on December 5, adding that the caravan will reach Peshawar on December 16 after passing through different cities.
MQI and PAT Karachi leaders such as Qazi Zahid Hussain, Mirza Junaid Ali, Mansoor Qasim, Fahim Ahmad and others also spoke at the ceremony. The MQI office bearers attended the ceremony and saw off the caravan of cycle from Karachi.